Brochure Printing
Brochure and flyer printing remains one of the key marketing tools for many retail and customer service businesses. Essential for tourism based businesses and businesses wanting to feature their product or service in visitor centres, brochure holders, letterbox drops, trade expos and not forgetting your restaurant and takeaway menu flyers.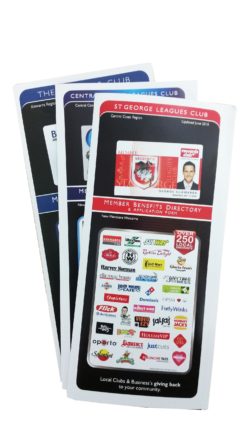 Common letterbox drop full colour flyers are printed on a 150gsm gloss stock in either a straight DL size or an A4 folded to DL brochure size. Some flyers are printed on a 115gsm stock or lighter but with the bulk going through at 150gsm, this is the most economical stock for your dollar.
Slightly more premium products, often used for real estate flyers is a thicker card stock like a 250gsm, 300gsm or 350gsm card. For an even more premium finish, this can be complemented with a gloss celloglase or matt celloglase 1 or 2 sides.
For a spectacular finish that is guaranteed to raise eyebrows we recommend using a Crystal Varnish finish. This gives you a similar effect to a spot UV varnish but also gives the rest of the document a premium synthetic finish. The 100% varnish really lifts your colour designs off the page. Ask us for a sample if you have not seen this product.
With the flexibility of digital printing, quantities can start from as little as 100 units. We deliver throughout Sydney and Australia wide.
Call us for a quote or for more details on your Flyer and Brochure Printing needs today on 1300 703 403 or REQUEST A QUOTE.